Please read the original post that may be found further down. Then Update #2 and #3.
---
Update #3 – 15th July 2020
This later post describes the current status of the issue. I've raised a Notice of Appeal for this decision to be be decided by a judge in the Magistrates Court.
---
Update #2 – 1st July 2020
I received the following reply to my 25th June 2020 email yesterday:
"Dear Chris,

The changes made in relation to amateur radio licensing improve the regulation in this area and compliance with international norms. The new requirements give more control and structure to the issue of amateur radio licences in the Falkland Islands. Temporary licences are available for visitors to the Islands.

The requirements formed part of the Spectrum Management consultation. The responses to the consultation informed the decisions made by the Government to take forward changes to the applicable legislation. The concept of re-validation is contained within the legislation. I am implementing these changes in accordance with the legislation and my powers under that legislation.

If you are unhappy with the decision taken in relation to your circumstances, then you may exercise your right to appeal to the Magistrate's Court under Part 14 of the Communications Ordinance 2017. I am not able to correspond with you further about this matter, which I regard as closed.

Regards Communications Regulator"
The final paragraph refers to the changes made to the Communications Ordinance 2017 in  129/19P: Communications (Amendment) (No. 1) Bill 2019: Appealing Decisions Made by the Communications Regulator
A Notice of Appeal or complaint may be made on the basis of Section 4 paragraph 109 (e):
"granting, varying, revoking or renewing a radiocommunications licence under Part 6 (or refusing to grant, vary revoke or renew such a licence);"
Further as stated in Section 5, New Sections  112B, Subsection (1):
"The filing of a notice of appeal against any of the decisions listed in subsection (2) automatically suspends the effects of the decision being appealed against".
---
Update #1 – 25th June 2020
I received the Communications Regulator's reply on the 22nd of June 2020. Please click the link below to read it:
>>>>>>>>>>>>>>>>
Communications Regulator's reply
Published with the written permission of the Falkland Islands Communications Regulator.

Dear Chris, I am sorry that you feel that you cannot accept the decision that I set out in my email to you on 18 Jun 20.

Both of your licences were issued under the Wireless Telegraphy Ordinance (WTO) 1994.  However, the Ordinance did not allow the Regulator to manage the issuing of licences in a way that is compliant with the Falkland Islands obligations to the International Telecommunications Union (ITU).

The WTO was repealed in 2019 and the Communications Ordinance 2017  and secondary legislation was updated to provide the Regulator with a range of powers, including those to manage the issuing of licences. The Regulator subsequently published terms and conditions for licencing following consultation.

When the WTO was repealed, specific provision was made for WTO licences to remain valid until such time that the Regulator had conducted work to revalidate licences and issue new licences under the Communications Ordinance 2017. It is not planned that the licences will be issued before 10 Jul 20.

Turning to the specific points that you raise:

Your first point is drawn from an EXCO paper. However, 
Your licences have been revalidated against the terms and conditions for a Communication Ordinance 2017 Amateur Radio licence for which you no longer meet the residential criteria. The Regulator has the authority to draw up those terms and conditions and is required to ensure that they are complied with.
While it is accepted that you are disappointed by the Regulator's decision, the Regulator's role is to ensure that the needs of the Islands and the Islanders are paramount in the Regulator's decisions.
You state that you comply with the residential criteria through 6 months' time here over 20 years. This draws on a narrow interpretation of the terms and conditions and it is certainly not what is intended by the Regulator.
You state that the Regulator has not complied with the need to give 7 days' notice before refusing a licence. The email was sent on 18 June to give you warning that your licences would not be renewed. Your licences will expire not before 10 July.

In summary, the Regulator has acted within the bounds of the legislation and interpreted the terms and conditions with the needs of the Islands and the Islanders uppermost. You have benefited for many years when the licence controls were minimal and poorly complied. It is right and proper that licencing is now managed within ITU Regulation and for the benefits of the Islands and Islanders.  I would urge you to accept the Regulator's decision with good grace.

Regards

Communications Regulator
>>>>>>>>>>>>>>>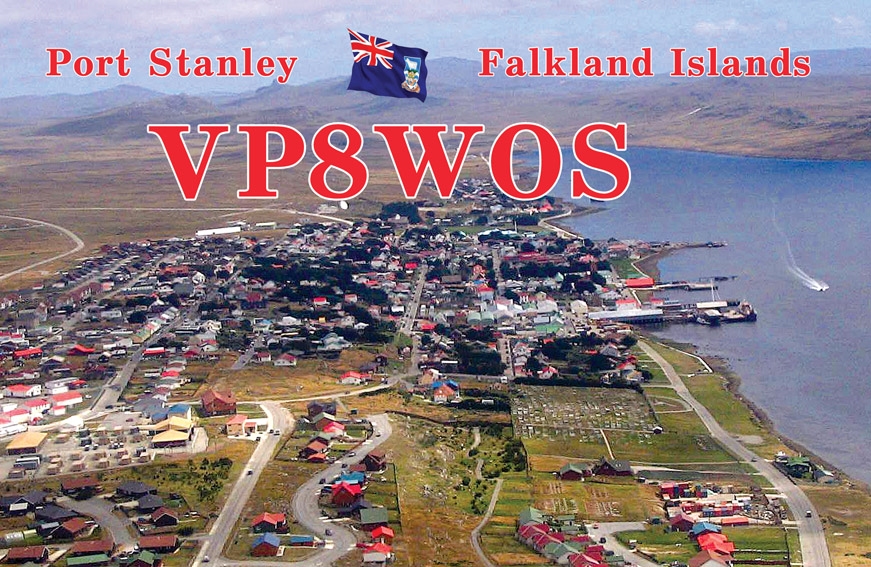 My first amateur activity from the Falkland Islands in 2000
I've been overwhelmed by the support I've received from the Falkland Islands community. I have had over 350 unique page views of which is the highest I've seen for an OpenFalklands' post. Moreover, I have received many private messages and Facebook comments expressing support and concern. Thank you so much!
Let's look at some points raised in the reply.
International Telecommunications Union (ITU) Radio Regulations
The reply states that:
[That the Regulator should] manage the issuing of licences in a way that is compliant with the Falkland Islands obligations to the International Telecommunications Union (ITU)."
This is as it should be.
I am very familiar with all the amateur radio ITU requirements and guidelines provided to local regulators having done work for OFCOM and the ITU in Geneva in the past. These can be seen in the ITU Radio Regulations in Article 25 and ITU Amateur Radio Handbook. I have operated the ITU's amateur radio station in their Geneva headquarters several times when attending policy meetings on behalf of C&W there.
Studying the ITU requirements and Falkland Islands Ordinance texts show that the Falkland Islands' Amateur Radio LIcence Terms and Conditions do generally abide by ITU requirements and guidelines.
I'm fully supportive of this approach. How could I not be?
However, the ITU Radio Regulations does not talk about a licensing policy such as that described in paragraph 6a of the Falkland Islands amateur radio licence.
Applicable Falkland Island Ordinances
The reply states:
"…it is the Ordinance, Regulation and Terms and Conditions that have legal authority here."
I wholeheartedly agree. I am very familiar with the Falkland Islands Communications 2017 and 2019 Ordinances. In confirmation, Section 36 of the Communications Ordinance 2017 states:
"The Regulator may add to, remove or vary conditions attached to an individual licence…."
This gives the Falkland Islands Communications Regulator full delegated authority to determine the Terms and Conditions of amateur radio licences.
This is as it should be.
However, a condition of being given this authority is outlined in Section 36 (c):
"(c) [The Regulator] in particular, ensure that conditions do not unfairly discriminate between licensees in respect of the same or similar networks or services."
I would have hoped that this condition would have been at the forefront of the Communication Regulator's considerations when drafting the amateur radio licence Terms and Conditions.
Further licencing regulations are contained in 'Communications (Radiocommunications Licensing Procedures) Regulations 2019'.
There is nothing relevant in any of these Falkland Islands' Ordinances and other publications that dictate or guide how existing lifelong amateur radio licensees held by non-resident radio amateurs should be treated going forward from either a legal or ethical perspective.
This policy has been implemented solely through the authority of the Communications Regulator.
Some other observations
I am concerned about some of the language used in the reply.
"accept the Regulator's decision with good grace"
The definition of this term is 'accepting a decision willingly and happily'.
The assumption of my attitude being represented by the word "disappointed" is entirely misplaced.
This is inappropriate language to use in such an impactful email.
I fail to see how rescinding my lifelong licence benefits the islands.  The following statement represents an inappropriate justification:
"..the Regulator's role is to ensure that the needs of the Islands and the Islanders are paramount in the Regulator's decisions."
I am very disturbed by the following assertion in the Communication Regulator's reply.
"You have benefited for many years when the licence controls were minimal and poorly complied."
It says that I, and by implication other radio amateurs, that have been active in the Falkland Islands have not complied with international ITU technical and spectrum regulations and have benefited from that situation.
I strongly deny that I have benefited by taking advantage of a lax regulatory regime in my 20-year of amateur radio activities on the islands. I have always behaved entirely within the law, did absolutely nothing wrong, and gained no advantage in any way from a regime that worked perfectly well on a trust basis.
Like all other active radio amateurs who have operated on the islands, I take ITU rules and standards extremely seriously. I'm not aware of a single instance where anyone has not compiled with ITU rules.
This comment demonstrates little understanding of the nature of amateur radio and is inappropriate.
How WTO lifelong non-resident licensees are treated
I fully agree with Terms and Conditions policies for use with new licensees. Still, there is nothing to justify the dramatic effect on myself and other non-residents by having our lifelong licences rescinded by default.
There is no supportive published legal or societal justification for conflating a re-validation policy with a new Terms and Conditions policy that results in our VP8 licenses being rescinded.
There is nothing in any of the ITU Radio Regulations or Telecommunication Ordinances that dictates how non-resident radio amateurs who hold lifelong VP8 licences for many years are to be treated. This policy has been solely determined in the Communications Regulator department in the drafting of the Amateur Radio LIcence Terms and Conditions.
This policy does not affect radio amateurs who are 'residents'. It feels like non-residents are 'collateral damage' resulting from a re-validation process that has not taken into account our particular circumstances.
Grandfathering
There was insufficient consideration taken of the different consequences of the new Terms and Conditions to each class of existing amateur radio licence issued under the auspices of the Falkland Islands Wireless Telegraphy Ordinance (WTO) 1994. 
It is ethically questionable on several grounds that non-resident lifelong licences are being rescinded. There are only a handful of impacted VP8 licences and even fewer that used regularly. A more thoughtful, caring approach could have been adopted to an essential and key hobby.
The apparent approach and one suggested by several Falkland Islands' residents and others would have been to adopt a straightforward and well-accepted approach called 'Grandfathering'.
"Grandfathering is a policy or provision (usually contained in statute) under which an old rule continues to apply to some existing situations while a new rule will apply to future cases."
This could have been considered and there should be no reason why such a policy cannot be retrospectively implemented. How could grandfathering some of these licences have an adverse effect on those that belong to the Falkland Islands? How can it possibly conflict with "the needs of the islands and islanders?
Discriminatory considerations
Clause 6a in the amateur radio Terms and Conditions effectively provides positive discrimination in favour of licensees who "belong to the Falkland Islands" and is therefore discriminatory against those that don't.,  Subsection 16..4.(a) of the Falkland Islands Constitution also states:
"any discriminatory policy must be "reasonably justifiable in a democratic society".
The consequence of this could be that Clause 6a in the Terms and Conditions could be considered discriminatory, and was this policy decision "reasonably justified"?
Similar anti-discriminatory clauses are to be found in the well-respected European Charter of Fundamental Rights (ECHR). Article 21 which states:
2. Within the scope of application of the Treaties and without prejudice to any of their specific provisions, any discrimination on grounds of nationality shall be prohibited."
Reply to the Communications Regulator.
Please click below to see my reply.
>>>>>>>>>>>>>>>>
Reply to the Communications Regulator'
Dear Sir
Thank you for your prompt reply and permission to publish it on OpenFalklands.
Please see my general response to your reply here on OpenFalklands.
I have several questions concerning the policy expressed in paragraph 6a of the  Amateur Radio Licence Terms and Conditions.
Was the 6-months residency requirement for a full licence decided by the Regulatory department alone? If so, how was the policy derived?
It is my understanding that Exco is the only lawful body that can make decisions on policy, and they MUST be consulted where a policy decision can affect an individual's human rights. Was ExCo consulted to approve the requirement? If so, can the public have access to non-published documents or minutes that justify that policy?
Did any other formal documented discussions take place about how the 6-month residency requirement would impact existing lifelong non-resident licence holders? If so,  can the public have access to all previously non-published documents or minutes that justify this policy change?
Was the possibility of adopting a Grandfathering policy, in the case of existing lifelong licence holders who were not residents, ever considered and if not, why not?
I look forward to hearing from you.
Regards
Chris Gare
>>>>>>>>>>>>>>>
Footnote:
In the new Terms and Conditions visiting radio amateurs applying for a Full Temporary licence MUST provide hard legal evidence in the form of the applicant's home country amateur radio licence as explained in the Terms and Conditions Guidelines:
"…documentary evidence of competence through a pass in a recognised
examination/certificate of competence or evidence of already having been issued a call sign in another jurisdiction."
While Falkland Island residents only need to sign a "self-declaration" of competence due to the lack of formal technical exams which are mandatory in other countries. I What in practice has changed in introducing the new radio licencing scheme compared with how the old WTO rules were managed some would ask?
This policy has been qualified with good intentions, but there are no plans to do so:
"The intention over time is for the Falkland Islands to move towards a qualification based competency for the full amateur licence to ensure the Falkland Islands meets its international obligations."
This pragmatic approach currently represents a significant disincentive and challenge for any Falkland Islands' resident who wishes to become a full radio amateur. Undergoing exams in other countries would be challenging enough for a knowledgable adult let alone for a child younger than 15. It also demonstrates the illogical disparity between what residents and visitors need to provide to justify an amateur radio Licence.
---
The original post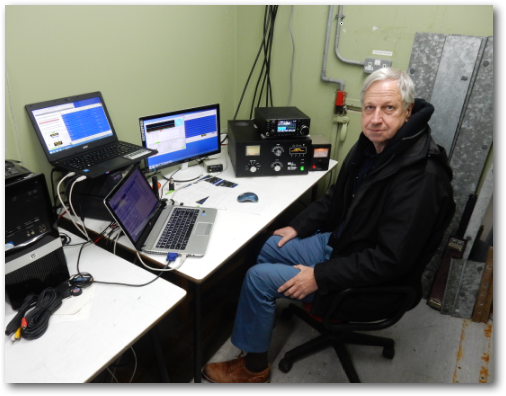 Chris, VP8WOS enjoying operating amateur radio in Stanley in 2017
Hi everyone!
It's been quite a while now since I made an OpenFalklands post. My last action in March was to put my email to Sure South Atlantic on hold, due to the Covid-19 crisis, concerning the availability of an Internet Access service fit for an Over-the-top Falkland islands' based Internet service provider.
The same applies to my query to MLAs about the cost of a VSAT licence that would be suitable for maintaining business continuity when the Island's Internet service experiences a major outage similar to the one experienced in November 2019. I will be taking up these issues again in due course.
This post is very relevant to me as it involves a Falkland Islands' telecommunications issue that applies to me personally. I received the following email from the Falkland Islands Communications Regulator on the 18th June 2020.
Callsigns: VP8 DBL & WOS

Dear Chris,

You will be aware that over the last 4 months we have been revalidating Falkland Islands Amateur Radio Licences. The key reason for this was to bring the Amateur Radio Licences into compliance with the Communication Ordinance 2019.

In parallel with changes to the Communications Ordinance in 2019, new regulations together with an overarching policy for licencing was introduced. Beneath this umbrella are the terms and condition that now apply to an Amateur Radio Licences. These can be found online at www.regulatorfi.org.fk.

One of the key changes is to the qualification criteria. In order to qualify for a full lifetime licence, an applicant must be resident in the Falkland Islands for more than 6 months.

Regrettably you do not, therefore, qualify for a full lifetime licence. Should you ever travel to the Islands in the future you would be able to apply for a full temporary licence at the time.

I am sorry if this comes as a disappointment to you.  Should you have any question regarding this matter please do not hesitate to contact me using the details below.

Regards

Communications Regulator
The Terms and Conditions referred to issue a Falkland Islands' VP8 amateur radio licence may be seen here – https://www.regulatorfi.org.fk/spectrum/amateur-radio
The referred to Clause is:

My UK amateur radio licence
I have held a UK Amateur radio licence, G3WOS, since 1967 and this is a LIFETIME licence as long as I revalidate it every five years.  OFCOM, the UK's telecommunications regulator, cannot rescind this licence unless it remains invalidated. Even then, OFCOM will restore a licence in this ever happens.
My two VP8 Falkland Islands amateur radio licences
I am proud to have two VP8 amateur licences.
The first one was issued to me in April 2000, VP8DBL. The receipt for this licence can be seen below: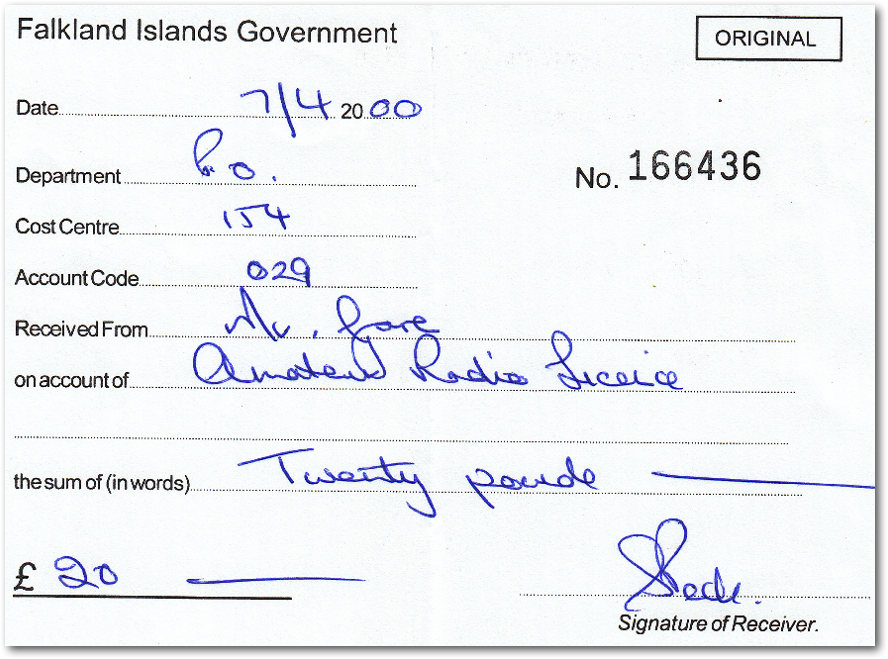 My second one was issued to me in November 2017, VP8WOS. The receipt for this licence can be seen below: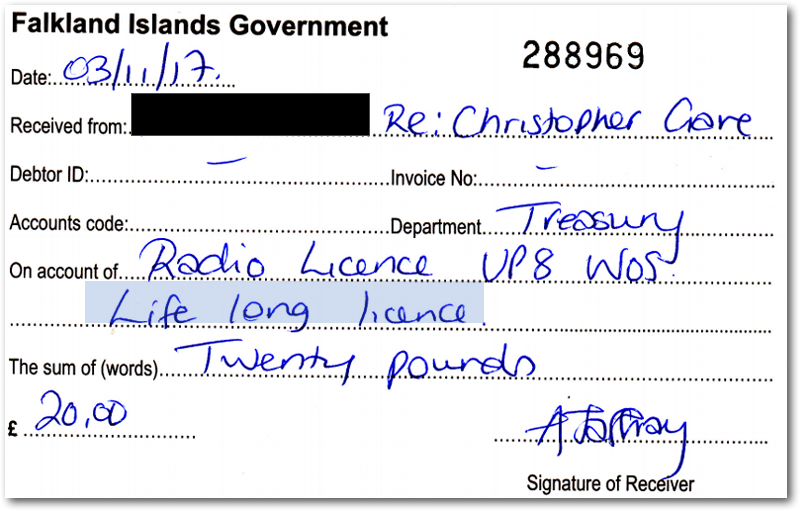 Please note that this licence specifically states that this is for a LIFE LONG LICENCE.
The Communications (Amendment) Bill 2019 – 130/19P
This is a relevant Clause from the amended communications Bill:

I followed the guidance provided by the Communications Regulator to revalidate my two licences on 12th February 2020 by email thus meeting the requirement of Clause 5.5.4. There is no mention in this Bill that an existing life long licence can be rescinded retrospectively as long as it is revalidated. Neither my VP8DBL nor VP8WOS has expired.
A further relevant Clause states:

I have not been formally provided with the seven-day notice of refusal of a licence as required by the Bill.
Reasons why I disagree with the Communications Regulator's conclusion
The Communications Regulator's guidance shown above states "[licences] will be issued". This clearly refers to the provision of new amateur radio licences and is not applicable to existing licences. There is no mention of retrospective rescindment of an existing lifetime licence in any of the documentation unless they have not been revalidated. I followed the revalidation process. Note: I am entirely happy for this process to be followed for a new licence request.
The Falkland Islands' Treasury receipt for the VP8WOS licence specifically states that the fee paid was for a Life long licence. Therefore simple revalidation is all that should be required to maintain this licence. In the case of my VP8DBL licence, that this was a life long licence, was committed to me verbally.
In all other contexts, such as life membership of a society or club, the issuing of a lifetime membership or the issuing of a documented life long licence is just that and is not something that can be revoked on a whim or stroke of a pen.
I have visited the islands every two years over the last twenty years for periods of three weeks at a time and have operated amateur radio on every trip. There is no mention in the guidelines that the 6-month residency in the islands needs to be contiguous and I have easily exceeded that time spent on the island. There is no formal definition of what constitutes a "resident" in the applicable material.
 The holding of a Falkland Islands life long amateur radio licence, as I have done for 20 years, is an extremely important part of my amateur radio life. I am recognised around the world by the callsigns I hold and the holding of my privileged VP8 ones is a key contributing factor to my good reputation with my amateur radio colleagues everywhere.
Conclusion
I have sent the following email to the Communications Regulator.
"Dear Sir

Thank you for your letter received on the 18th June 2020 rescinding my two Falkland Islands amateur radio licences, VP8DBL and VP8WOS.

I do not accept the conclusion reached and I would like to formally request that it is re-evaluated and that my licences "continue in effect on their existing terms" as stated in the Communications (Amendment) Bill 2019 – 130/19P.

I have outlined my justification for this on OpenFalklands blog and would request that you refer to the post entitled "Email to the Communications Regulator concerning an Amateur radio licence issue".

I hope this can be settled promptly.

Best regards

Chris Gare G3WOS, VP8DBL, VP8WOS."