I was pleased to see that FIG, Sure and the regulator have been holding public meetings to talk about and involve islanders in matters of Falkland Islands telecommunications. On Monday, 18th March 2019 in the Chamber of Commerce in Stanley, the session had three presenters from Sure South Atlantic, Falkland Islands Government (FIG) and the Communications Regulator. Here is an audio recording of the event.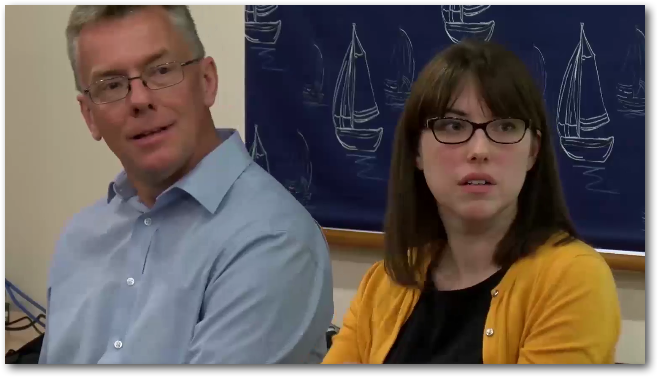 Justin McPhee, Sure and Susannah Nightingale, Regulator (Source: FITV)

For listeners' convenience , I have separated out each presenter,
Sure South Atlantic [29MB]
Falkland Islands Government [11MB]
Communications Regulator [18.2MB]
'Let's Talk' [with the 'experts'] on FIRS on Wednesday 20th March 2019 [21MB]
Posted with permission of Falkland Islands Radio Service, FIRS. FIRS can be heard on-line here.
The event was also reported in following issue of Penguin News as follows: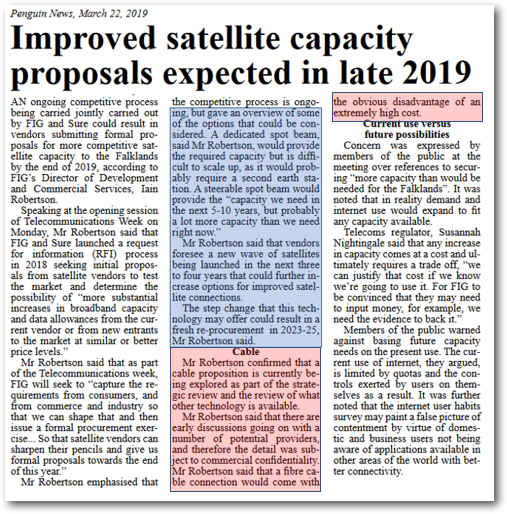 Penguin News, March 22nd 2019 Source: Penguin News

There are a couple of observations I'd like to mention in this post with respect to previous OpenFalklands posts.
Talking about longer term possibilities for increasing satellite capacity, Penguin News reported that the words "steerable spot beams" and "require a second earth station" were used. In the recording, the words "there is potentially C-band and Ka-band" was also mentioned.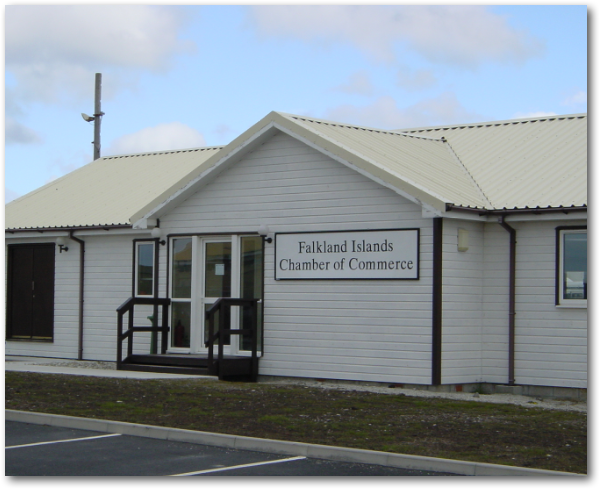 Falkland Islands Chamber of Commerce in Stanley
Could they be referring to the satellite discussed in the OpenFalkslands post Falkland Islands' satellite – spoilt for choice! Part 2, O3B mPOWER? I think so. I would expect anyone in the industry would put 'two and two together' and reach a similar conclusion to myself.
It was also stated that a "cable proposition is currently being explored that has been mentioned on social media" could they be referring to the OpenFalklands post: Fibra Optica Austral; Chile's cable to Tierra del Fuego I wonder?
Of course, there are other more expensive options such as laying a submarine cable to Uruguay near the principle city of Montevideo at Maldonado where the UNISUR cable lands or the from Seaborn Networks' ARBR cable mentioned in the earlier post but these would be far, far more costly. However, one should never say no!
There are lots of things to talk about in these recordings for future posts.
Chris Gare March 2019 Copyright: OpenFalklands