It's been a quiet year on OpenFalklands with less opportunity to write technical articles about Falkland Islands telecommunications subjects (I've done most!) and with a move towards practical involvement and engagement in real issues.
So it's with great pleasure to bring to readers attention the opportunity to radically transform Falkland Islands telecommunications one step nearer –  Elon Musk's SpaceX satellite megaconstellation, Starlink!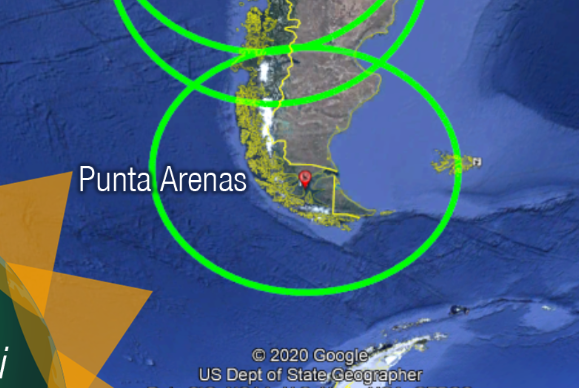 Given the opportunity, Starlink's service could seismically turn the Falkland Islands telecommunications scenario upside down in coming years. St Helena is facing a similar level of change brought about Google's Equiano undersea cable. I'm sure almost everyone has heard of Starlink and this is what they say about their current activities:
"Starlink is now delivering initial beta service both domestically and internationally, and will continue expansion to near global coverage of the populated world in 2021.

During beta, users can expect to see data speeds vary from 50Mb/s to 150Mb/s and latency from 20ms to 40ms in most locations over the next several months as we enhance the Starlink system. There will also be brief periods of no connectivity at all. As we launch more satellites, install more ground stations and improve our networking software, data speed, latency and uptime will improve dramatically."
The January 7th 2021 announcement – SpaceX submits requests to be a Starlink Internet Service Provider in Chile [& Argentina]. This brings
"SpaceX submitted applications to seek a telecommunications license in several countries worldwide under a subsidiary company name – "TIBRO" (it casually spells 'ORBIT' backwards). SpaceX is in the early stages of requesting Internet Service Provider licenses and spectrum allocation licenses under the TIBRO company name to operate in Chile and Argentina, neighbour countries located in South America.

In Chile, SpaceX has requested regulators to build 7 Starlink Gateway ground stations. One of them in the capital, Santiago, and the other 6 stations south of Chile, according to a filing submitted in Spanish language with The Republic of Chile Ministry of Transportation and Telecommunications."
A colleague of mine, Christian von der Ropp, kindly drew a picture of the proposed Gateways' locations. The Punta Arenas gateway could be an opportunity to extend coverage to the Falklands – at least in the western part which we know as 'Camp':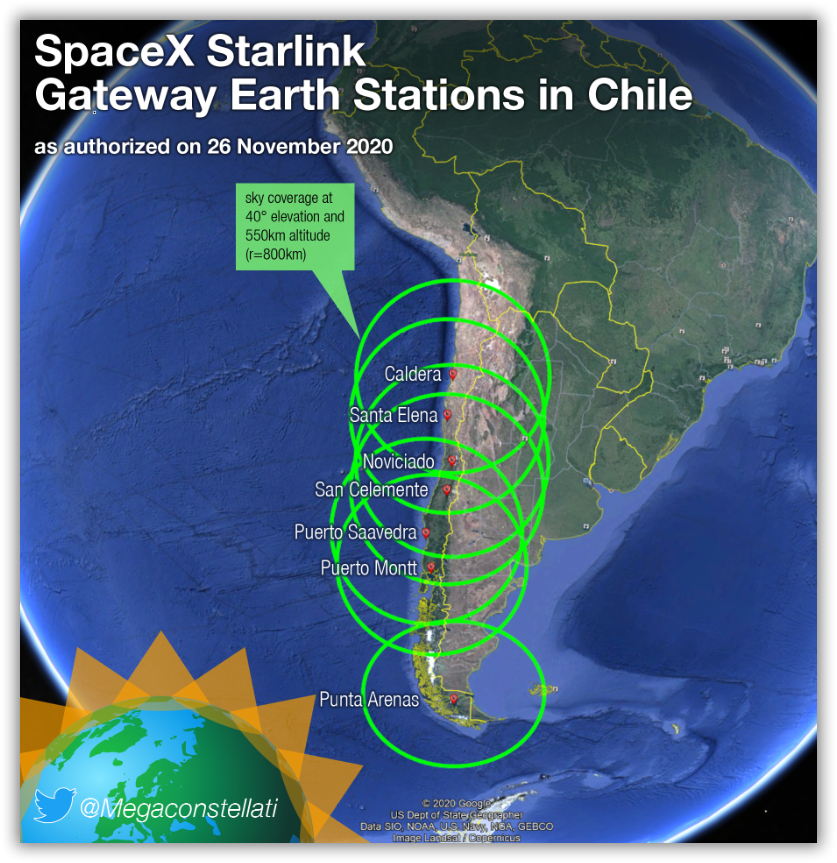 The proposed Starlink Gateways in Chile (Credit: Christian von der Ropp)
The image below shows that the Falkland Islands falls within a latitude that already has very high satellite density and could receive reliable/uninterrupted service almost immediately.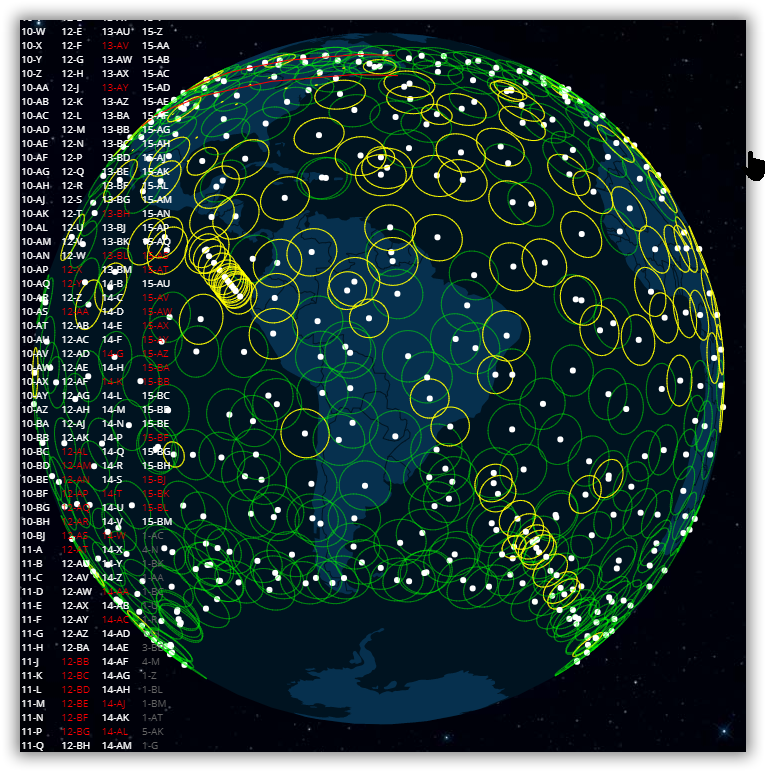 Source: https://satellitemap.space/
The image below highlights what real geographical privilege the Falklands have in the planning of the Starlink service. The Falkland Islands falls smack in the middle of a 'golden latitude' where coverage can be provided for a full 24hours.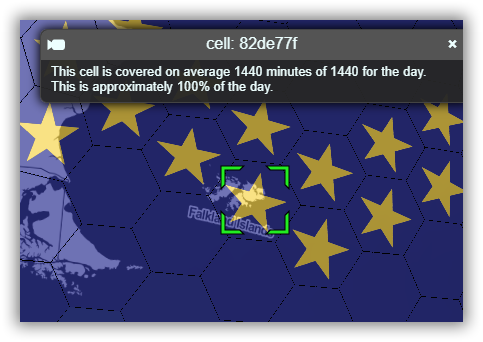 Source: sebsebse
Here are some of my thoughts about Starlink and Falkland Islands.  Remember that these are only conjectures but, I hope, will kick off some serious public discussion and evaluation.
1 We've all been through this before with many LEO companies collapsing in the late 1990s. Still, SpaceX's Starlink and Amazon's Kuiper initiatives are far more credible ventures with solid financial bases to achieve their goals. Moreover, there has been a transformation in the space technology used in recent years.
2 Coverage based on a teleport in Punta Arenas is a much-improved technical situation than one located in the much further north. It's a little too early to be exact as to the extent of coverage the Falkland Islands is on the extreme eastern edge of coverage.
3 Remember, you heard it first from me first, but Starlink could provide a much-improved broadband service into CAMP!
4 Starlink does not suffer from the downsides of Medium Earth Orbit satellites (MEO) such as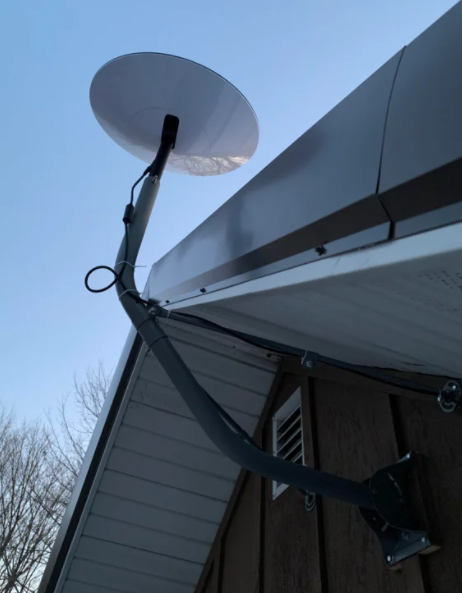 atmosphere signal degradation which could cause dropouts in inclement weather conditions when the teleports are in the Northern hemisphere. There is also no need for the large, expensive, tracking dishes that would be required to track satellites from horizon-to-horizon satellites by the ISP due to the Falkland Islands' latitude. Antennas such as these would cost £1m to install and this was seen as another disincentive.
These were the main reasons given by FIG for seriously considering the use of MEOs in their investigation three years ago.
Starlink consumer use a small and relatively cheap fixed flat dish (These track the LEO satellites electronically). I recommend watching this YouTube video for a full destructive teardown the Starlink User Terminal antenna. Most entertaining!
5 Starlink focuses on providing its services direct to individual CONSUMERS and BUSINESSES without using resellers. It does not intend to provide what are known as 'IP Transit Services' to competitive ISP's (as far as I can ascertain). This is what Sure currently uses over the Intelsat C-band' geostationary satellite. An additional benefit is that round time trip delays of less than 40mS plus the transit delay to the USA or Europe which, using Intelsat's geostationary satellite, is over 850mS. Now that is what I call a real benefit!
6 Starlink's business model is entirely orthogonal to that currently adopted by Falkland Islands Government. Starlink is designed to be a highly 'disruptive' service. Its adoption in the Falkland Islands will need a forward-looking vision and strategy to provide 21st-century telecommunication services on the islands. One that is not monopolistic and not risk-averse at its core.
7 It should be remembered that even if Starlink was providing services in the islands, diversity is still a must to ensure a back-up protection service is required in case of Starlink outages.
8 Many of the new Falkland Islands Communications Ordinance policies are explicitly focused on preserving Sure South Atlantic's monopoly through law. One key example of this concerns VSATs as discussed in this OpenFalklands post. This policy makes the creation of business continuation services unaffordable.
This is an utterly unfathomable policy that disincentivises companies from providing the business continuity capabilities needed to minimise significant broadband outages as experienced in November 1999 when even the bank had to close.
9 St Helena's 21st-century telecommunications upgrade is brought about by Google's Equiano undersea cable landing on the island. However, this has brought about much discussion about monopolies and whether Sure will upgrade their terrestrial network. This would be needed to enable the island's consumers and businesses to benefit from the undersea cable's phenomenal bandwidth on the beach.
Laying an undersea cable to the Falkland Islands is just not possible as discussed extensively on OpenFalklands. The use of megaconstellations such as Starlink IS the only way forward to bring the islands' telecommunications into the 21st service in my considered opinion.
10 It has often been firmly stated – including by 'expert' consultants – that the islands' population is too just too small to support two communications service providers from an economic perspective. Therefore an ongoing telecommunications monopoly is mandatory.
I would suggest that this is an entirely out-of-date view and one pushed by those that have an obvious agenda or are worried about the current provider walking away from the islands. Disruptive technologies change the baseline of such attitudes and a willingness to take risks. Times are changing and technology will not be held back.
This so-called 'fact' should be seriously questioned as any possibility of change will involve much work in the few years remaining before the end of the current monopoly.
Like St Helena, the Falkland Islands need to work towards issuing a 'Request for Interest' to other service providers well in advance of the monopoly's end. This is not far away.
11 It is generally understood that the issuing of 10-year monopolies hinders technological innovations from being introduced. There's a massive conflict between a monopoly looking for a return on investment and a consumers' interest in cheaper and better services. Space technologies are undergoing transformational change as we speak. 25-year capital write-off periods in the telecommunications industry were the norm. Today, they are written off in 5 years or less like IT products.
The Falkland Islands are nearing a period of possible transformational change to its telecommunication services. Work on this needs to start by the end of this year and not be dominated by the thought that the only viable strategy is a monopoly. The future availability of Starlink considerably undermines this simplistic attitude.
12 Last but not least, the most important question that consumers ask – from Advanced Television
"Elon Musk's Starlink service will cost US rural subscribers $99 (€84) a month. The beta-test users will also have to pay $499 for the phased-array ground terminal, a tripod stand for the antenna and a WiFi router."
As a final comment, there has been an on-going existential crisis for telcos in the global subsea cable since Facebook and Google became the dominant players in recent years. A similar situation is now evolving in space and I can assure you that it's going to be exciting with the traditional space supplier facing strong competition for the first time.
Chris Gare, January 2021 Copyright: OpenFalklands.com