Update: 27th March 2021
The annual Falkland Islands Regulator's report was recently issued and this was what was said about South Georgia, South Sandwich Islands (SGSSI) and British Antarctic Territory (BAT) Amateur Radio Licencing:
"South Georgia, South Sandwich Islands (SGSSI) and British AntarcticTerritory (BAT) Amateur Radio Licences. Following an EXCO decision in mid2020 to enable the Regulator to issue SGSSI and BAT Amateur Radio Licences, the Regulator has contacted OFCOM to seek direction on how the callsign matrix might be split to cover the three jurisdictions. However, new law is required to enable SGSSI and BAT to issue licences. Therefore, the Regulator is making interim arrangements with the SGSSI Government until that legislation is in place."
---
Update: 1st March 2021
The Regulator made the following statement indicating that unique prefixes are going to be issued for SG&SSI and BAT overseas territories. When this will finalised is not known at present but be assured we are continuing our dialogue to get the licencing situation resolved.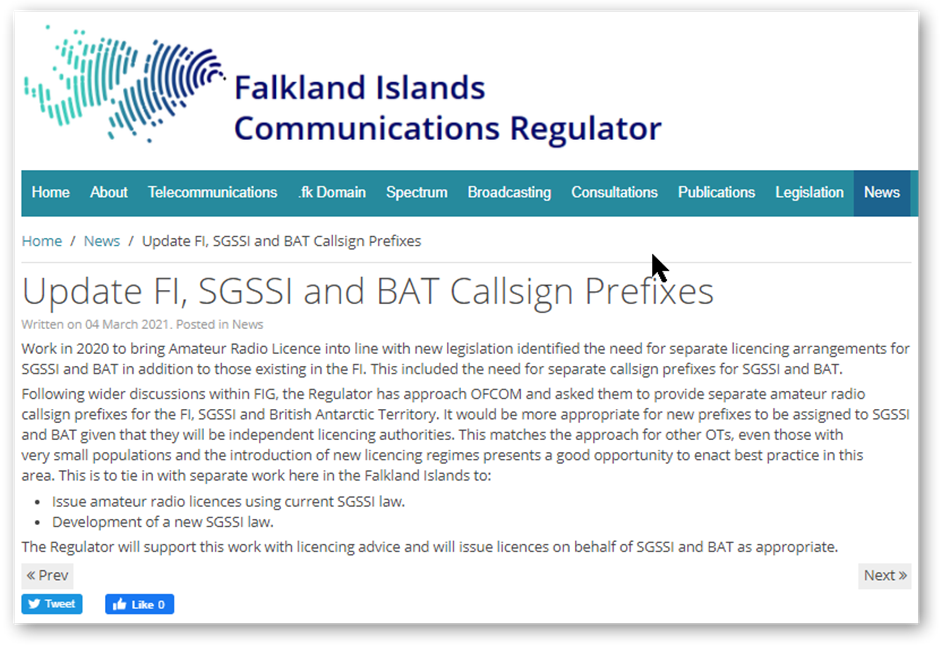 ---
Main Post
The full history of this issue can be seen here and here.
You may be aware that there have recently been some amateur radio licencing difficulties experienced in the Falkland Islands due to new communications legislation being implemented. This involved all previous and existing VP8 licences issued under the old Falkland Islands Wireless Telegraphy Act being revoked en masse in early 2020. This included all existing VP8 Antarctic and South Georgia licences, resulting in no legal amateur radio operation in these Overseas Territories being permitted using a VP8 callsign.  Licences were then revalidated and re-issued under the new Falkland Islands Communications Ordinance on a case-by-case basis for use in the Falkland Islands only.
We now have some good news from the UK's regulatory body, OFCOM concerning this situation.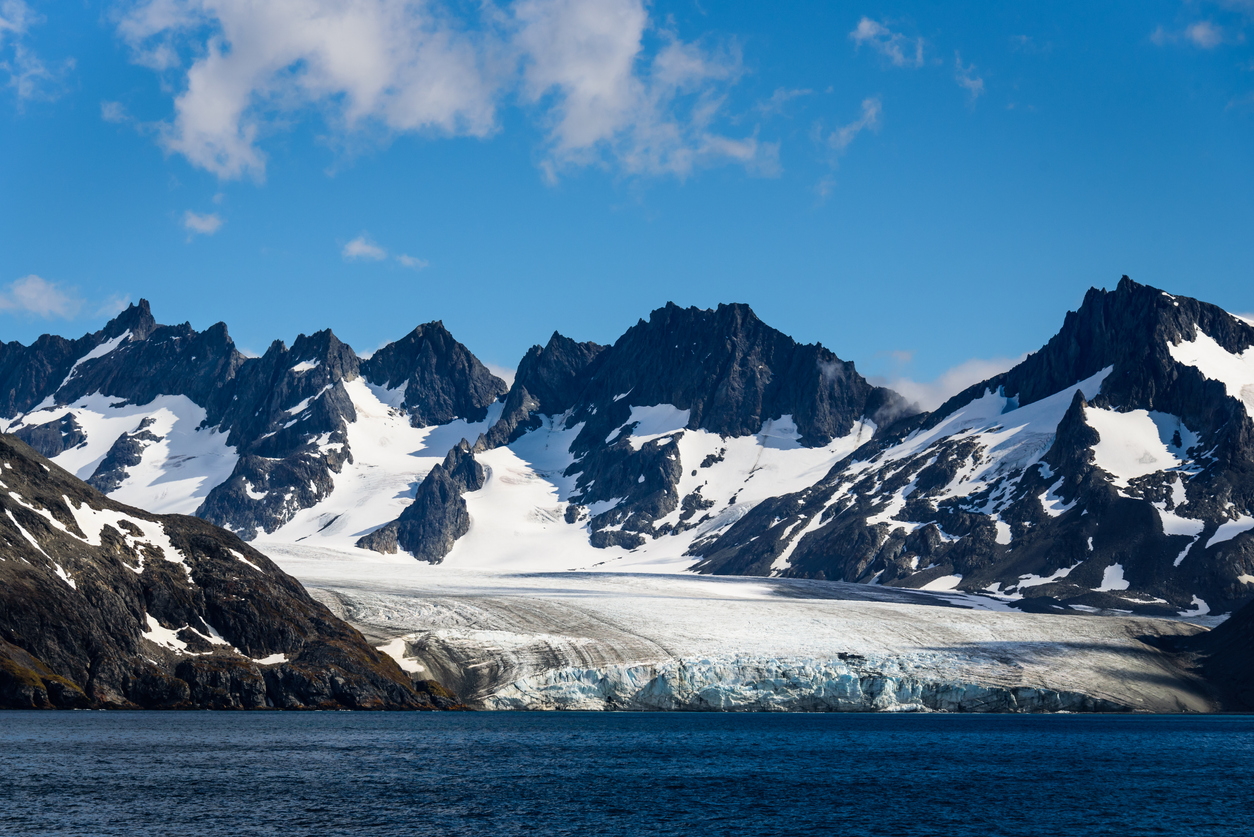 South Georgia
In summer 2020, we had to resort to legal action as non-residents to get our licences restored. However, restored VP8 Antarctic and South Georgia licences were seemingly overlooked and were reissued as valid for use in the Falkland Islands only.
The previous Communications Regulator stopped issuing VP8 licences for use in British Antarctic Territory (BAT) and South Georgia & South Sandwich Islands (SG&SSI) in mid-2017, apparently on the grounds that they are "no longer Falkland Islands Dependencies". At first, it was thought that this was simply the result of administrative oversight due to a lack of knowledge of amateur radio and that the matter would be quickly rectified.
However, the present Regulator continues with this policy; indeed, he has explicitly stated that the VP8 prefix can only be used within the Falkland Islands themselves.
As things stand, stations operating with a VP8 callsign from the Antarctic or South Georgia have not been legitimate since early-2020 and continue to be so. The last known valid operation from any of the VP8 Antarctic entities was the VP8PJ South Orkneys DXpedition in February / March 2020. The full history can be seen here and here.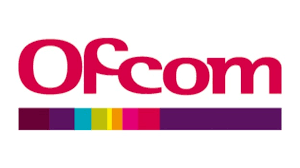 The matter was referred to the Office of Communications (Ofcom) in London as they are the ultimate responsible body for many British Overseas Territories. Their response below received on 28th January 2021 is good news and brings us one step closer to full resolution:
"Thank you for your message about amateur radio station call sign allocations for UK Overseas Territories ('OTs'), notably the Falkland Islands ('FI'), South Georgia and the South Sandwich Islands ('SG/SSI') and the British Antarctic Territory ('BAT').

While neither SG/SSI nor BAT currently has the legislative power to issue call signs, when they have, we can agree an allocation with them.   Until then, call signs with the prefix 'VP8' will continue to identify existing stations in those two British Overseas Territories (OT), even if these OTs cannot yet assign any new call signs.

From time to time, we may be asked to advise OT administrations on spectrum management issues but we do not intervene in their quotidian [day-to-day] licensing operations or policy decisions.  It is thus for the FI authorities to issue FI amateur radio licences.  Equally, they may choose not to issue licences or to revoke licences.  

If either the SG/SSI or the BAT were to want the FI to administer licensing and call signs on their behalf, it would be a matter for agreement between the OTs.  We would not be involved."
We assume that OFCOM has contacted the Falkland Islands Communications Regulator and is now fully aware of this situation.
What does this mean in practice for radio amateurs who want to operate in the Antarctic or South Georgia?
1 OFCOM has stated that until the BAT and SG&SSI governments have the 'legislative power' to issue their own licences, existing VP8 Antarctic and South Georgia licences (as issued in the Falkland Islands) continue to be valid for use in these two territories.  There has been much confusion about this until now, as no one has made a clear statement on the matter.
2 A further aspect of this statement is that by inference all revalidated overseas and local VP8 licences are also valid for use in BAT and SG&SSI. This even applies to existing Falkland Island residents who have a VP8 licence, even though all revalidated licences state that they are only valid for operation in the Falkland Islands.
3 We have also made proposals about what callsign prefixes could be used in BAT and SG&SSIs in the future.  Ofcom again provides some clarity on the matter:
"The call sign series used by the OTs are a matter for agreement between the UK and the OTs.  When we have agreed this with an OT, it is for them to manage arrangements for issuing radio licences and assigning individual call signs.

We notify the ITU of the call sign arrangements we agree with the OTs and the ITU publishes these.  This makes plain to other administrations which call signs identify the stations of which OT"
There is still much work to do, as this does not address the critical issue of providing new VP8 licences for use in BAT and SG&SSI, so Alan and I will continue our work to get this situation resolved.
Chris G3WOS VP8WOS
Alan, G4EEL VK6CQ VP8PJ
Chris Gare, January 2021 Copyright: OpenFalklands.com