Since 2020 there has been a tremendous increase in consumer interest in LEOs in the Falkland Islands, but this has been myopically focused on SpaceX's Starlink service.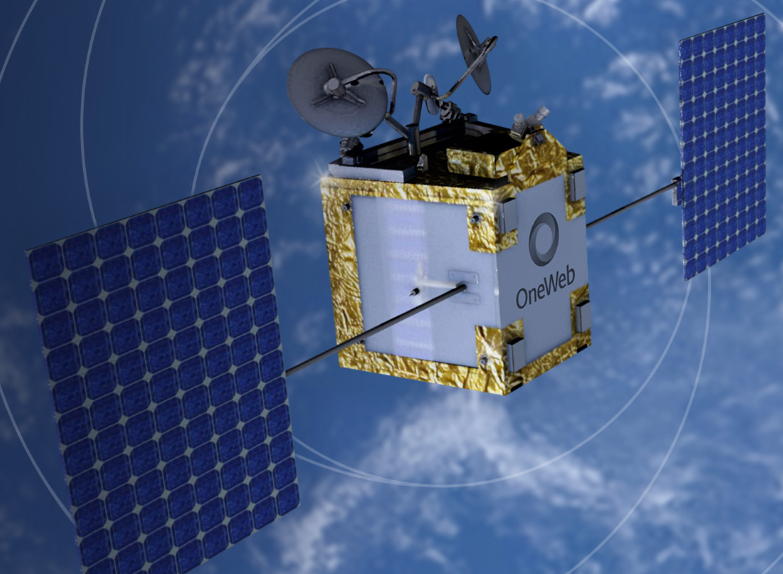 A OneWeb LEO satellite (Source: OneWeb)
Caveat: This post is based on public information. Its views are those of the author alone.
I last wrote about Starlink in 2021 when the company announced service availability in Chile. This provided the intriguing possibility of marginal coverage of West Falkland Island. Marginal, because of the geographic reach of Starlink's earth gateway in Punta Arenas, Chile.

This post is about the OTHER global LEO megaconstellation called OneWeb. OneWeb is partially owned by the British Government and is one of only two LEO constellations to offer truly global coverage by the end of 2023.
The Falkland Islands are now in the geographic coverage of the OneWeb constellation and the Chilean gateway and service could possibly be provided to the Falkland Islands by November 2022.
OneWeb's bankruptcy.
How did the British Government get involved? This is what Reuters said in November 2020:
"Satellite operator OneWeb said on Friday it has emerged from Chapter 11 bankruptcy protection with $1 billion in equity investment from a consortium of the UK Government and India's Bharti Enterprises, the new owners of the UK-based company.

The investment puts OneWeb on track to compete with Elon Musk's SpaceX in the race to use low-Earth orbit satellites to provide high-bandwidth and low-latency communication services."
OneWeb is merging with Eutelsat.

On July 26th 2022, the UK Government announced that OneWeb would merge with Eutelsat.
"OneWeb, a Low Earth Orbit (LEO) satellite constellation of which the UK government is a minority shareholder, has today signed a Memorandum of Understanding with Eutelsat Communications to merge the 2 companies, with the objective of creating a single, powerful global player in connectivity.

Eutelsat will add its 36-strong fleet of Geostationary Orbit (GEO) satellites to OneWeb's LEO constellation, with 428 satellites already in orbit, to generate combined revenues of €1.2 billion and address an even wider range of customer requirements.

The merger is positive news for UK taxpayers: having made a $500 million investment in OneWeb 2 years ago, the UK government will now have a significant stake in what will become a single, powerful, global space company, working on the sound financial footing needed to make the most of the technological advantages it has to compete in the highly-competitive global satellite industry, against companies around the world."
Eutelsat is a competitor to Intelsat. Intelsat currently has a contract with Sure Falkland Islands to provide the satellite backhaul link to Europe's Internet backbone. Sure took over from Cable & Wireless and has an exclusive licence with the Falkland Islands Government  (FIG) to provide telecommunication services in the Falkland Islands.
A quick guide to OneWeb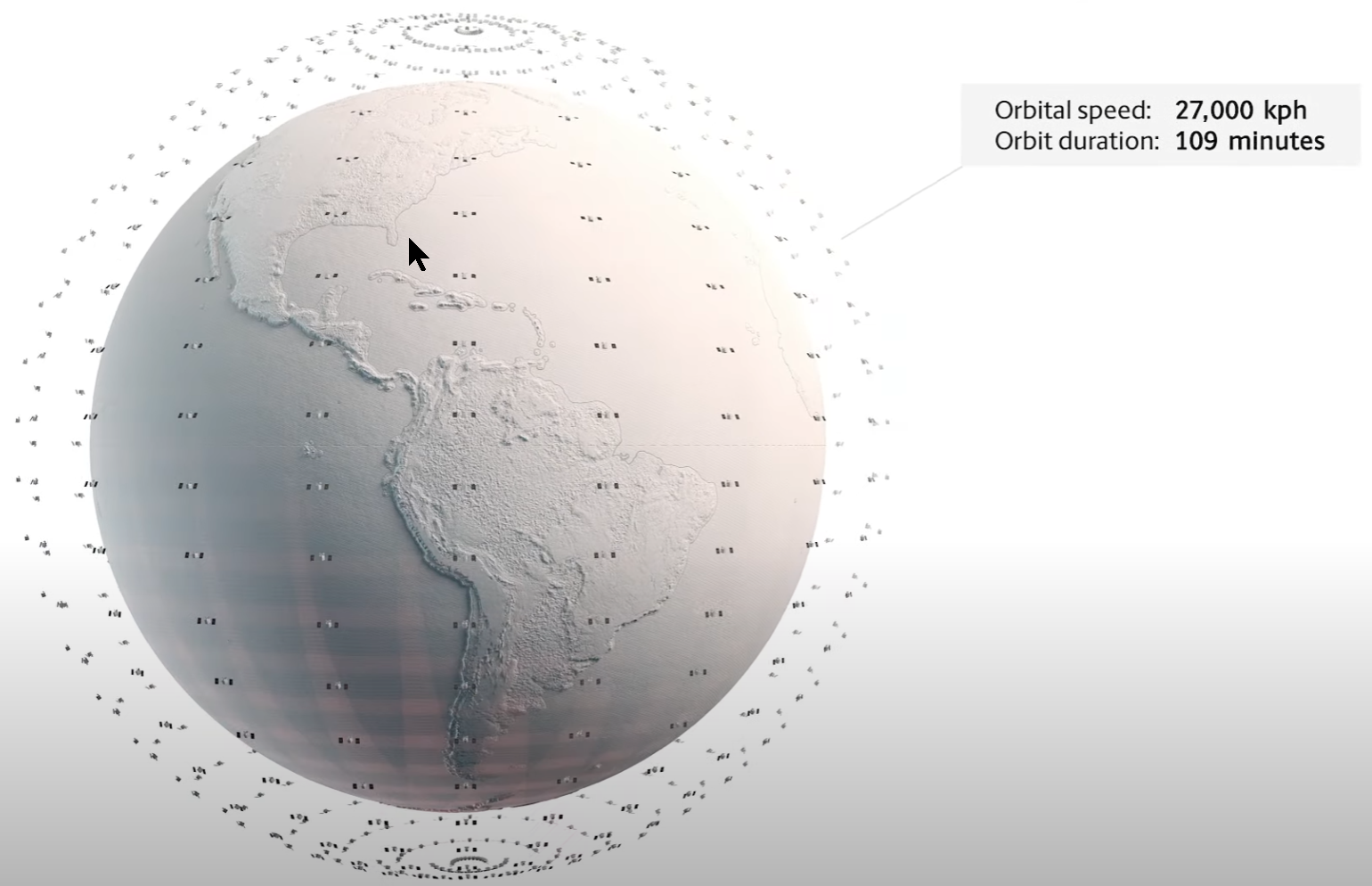 OneWeb's constellation ( Source: OneWeb)
OneWeb's 648 LEO satellites are located at an orbital altitude of 1,200km, much higher than Starlink's constellation altitude of 500 to 600km, giving it geographic reach benefits.

OneWeb's altitude  ( Source: OneWeb)
The low latitude of the LEOs enables a much lower latency than those provided by GEO satellites currently used on the Falkland Islands.

OneWeb's latency  ( Source: OneWeb)
As would be expected, OneWeb has a wide range of User Terminals (UT):
"Dimensions range from parabolic antennas measuring 73cm (29″) in diameter and 77cm (30″) tall inside a protective radome, to smaller electronically steered antennas (ESA) measuring 53cm (21") wide and 18cm (7") tall."
Examples of OneWeb's User Terminals ( Source: OneWeb)
OneWeb and the Falkland Islands.
Let's examine OneWeb in relation to the Falkland Islands.
Earth gateways: Oneweb's Chile gateways are nearing completion and are nearly ready for the service launch. The most appropriate gateway for the Falkland islands is located south of 50 degrees. OneWeb's most southerly gateway covers the whole of the Falkland Islands.

One of the OneWeb Chile gateways is below 50 degrees ( Source: OneWeb)
LEO satellites: There is coverage of all the Falkland Islands.
Service availability: OneWeb's service into the Falkland Islands will be on a 24x7x365 basis. This is a crucial requirement for both consumer and business broadband services.

Upload and download speeds: 

An average download rate is projected to be 195Mb/s with an average upload speed is 32Mb/s. However, a test deployment on aircraft showed a download speed of 260Mb/s with a latency of well under 100ms.
Signal Quality and availability: Several 'objections' were raised by Sure to the use of O3b's equatorial (Medium Earth Orbit (MEO) satellite network several years ago. These were because the Falkland Islands are located at the southerly fringe of O3b's satellite coverage. This means that signals to the satellite will have to follow a very long path through the atmosphere from the Falkland Islands to the Equatorial O3B satellites and thus could suffer from excessive signal degradation and unreliability due to rain scattering the signals in the atmosphere. Snow and ice are other issues that could cause degradation. Reduction of these effects requires using large tracking dishes on the Falklands. These concerns do not apply to a OneWeb service on the Falkland Islands.
Local regulation: OneWeb requires regulatory and FIG approval to supply services in the Falkland Islands. More on this in the next post.
Business strategy: StarLink's business strategy is to operate as a Business-to-Consumer

(B2C) service. This means that SpaceX provides its broadband service directly to customers in their operating countries in competition with incumbent providers. This creates significant issues in communications monopoly countries such as the Falkland Islands.
OneWeb's business model is that of a Business-to-Business (B2B) where they provide local services using what the company calls Distribution Partners (DP).
"Do you have a vision for how OneWeb connectivity can power your network solution? Do you have a customer base ready for low-latency, high-speed connectivity? Can you ramp up your business using APIs, automation, and self-service tools? Can you manage logistics and supply chain, and serve customers end to end? Is it time to enhance or scale connectivity for your enterprise, community, government, maritime, or aviation business?

If your answer is yes, then OneWeb would like to hear from you. Our channel partner program offers strength in partnership, to serve enterprise-grade broadband that you can flex to your customers' needs, when, where, and how you want it."
The obvious choice would be for Sure Falkland Islands to become OneWeb's Distribution Partner in the Falkland Islands.
Conclusion
LEOs are like a steam train rushing down the tracks. They are the future for isolated islands like the Falkland Islands to provide an enhanced high-speed broadband service sitting alongside existing broadband networks. They are not the future; they are here today. However, it is legitimate to ask whether Falklands Islands communications legislation is ready for this. More in a coming post.
Copyright: January 2022, OpenFalklands